Inkodye
2009–2014
I co-founded Inkodye with Jesse Genet in 2009. Together we also created the related supply chain company, Lumi.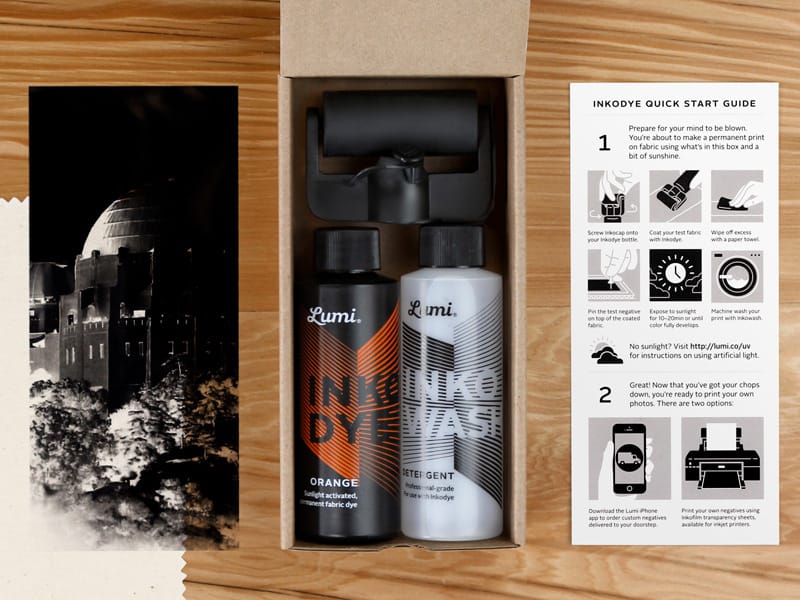 Our main product, Inkodye, was a photo-sensitive dye for printing on fabric using sunlight. We launched the printing process on Kickstarter . It was one of the first successful Kickstarter projects and raised $13,597 — which at the time made it the third largest online crowd-funding campaign ever.
We returned to Kickstarter in 2012 with our second crowd-funding campaign to create accessible solar-powered printing kits. More than one million prints were made by people using Inkodye at home.
Inkodye was a small bootstrapped company so we all wore a lot of hats. My involvement was broad: I worked on dye chemistry, designed our branding and app, manufactured dye, and helped build our factory and fulfillment center.
While working on Inkodye I was lucky to participate in the early days of many important technology trends: crowd-funding with Kickstarter, direct-to-consumer e-commerce with Shopify and Stripe, the launch of the iPhone and App Store, and even augmented reality via our Inkodye app for previewing prints (briefly seen here). Inkodye was also featured on the TV show Shark Tank.
Inkodye is no longer in production but you can now find Jacquard SolarFast which uses a similar formula.